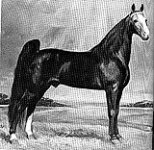 Allan F-IA.T.R. 7623 (Standardbred) Foaled in Kentucky in 1886 and died in Tennessee September 16, 1910.The first horse to be registered as a Tennessee Walking horse was a registered American Trotting Horse named Black Allen, No. 7623 in the American Trotting Registry, and listed in the Tennessee Walking Horse Registry as Allan F-1. His sire was a stallion called Allendorf, from the Hambletonian family of trotters, but his dam was a Morgan, from Blackhawk breeding. In 1885, the cross between Allendorf and Maggie Marshall, a Morgan mare, by Bradford's Telegraph, resulted in a black colt with a white blaze, off hind coronet and rear hind sock. The little black stallion Allan was born in 1886 in Lexington, Kentucky.His sons, Hunter's Allen F-10 and Roan Allen F-38 are recognized as immortals for their contributions to the Tennessee Walking Horse Breed. He produced 39 Registered offspring. 35 mares and 4 stallions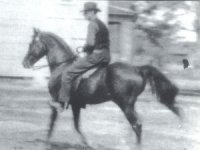 Hunter's Allen F-10 (about 1915) with Fred Walker.
This same Fred Walker over 30 years later showed Hunter's Allen's great grandson, Midnight Sun , to World Grand Championships in 1945 and 1946. Hunter's Allen was foaled in 1906. He died January 15, 1933 at the age of 27. Hunter's Allen produced over 200 offspring. The most notable may be Dement's Allen, the sire of Ramsey's Rena, dam of Midnight Sun. Also Golden Sunshine and Last Chance. Golden Sunshine sired Barker's Moonbeam the sire of the Fisher palomino walkers which included Roy Rogers' Trigger Jr. He sired over 100 registered walkers with a high percentage being palomino. Last Chance is known as the foundation sire for the Dement Tennessee Walkers.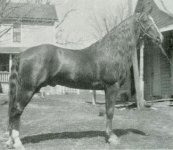 Last Chance #350034
was sired by Hunter's Allen F-10 ; his dam was Merry Legs F-4. Last Chance was foaled in 1931 and died in 1956. When Mr. Dement died, in 1940, a tribute to his achievements was presented at the Columbia horse show. Last Chance was lead around the arena, saddle empty, as friends and associates circled the ring behind the classic stallion, moving slowly while the announcer listed Dement's many contributions to the breed he helped create.
Last Chance sired, produced over 400 offspring, The most notable, John A's Chance, the palomino stallion that Vance Paschal said was " the greatest yellow breeding stallion of all time. " Yellow Jacket , Gay Chance,and Triple Chance D. The latter are the foundation for what breeders call the Dement Tennessee Walkers.

Merry Legs F-4
Foaled in 1911. Died in 1932. She was owned by Albert M. dement. Merry Legs was the dam of 13 colts and she probably contributed more top stallions to the breed than any other matron.
The daughter of Nell Dement F-3 and Allan F-1. MERRY LEGS was a big mare, standing 15.2 and weighing 1200 pounds. She was described as, a straight-going mare with no amble whatsoever. She had lots of head motion, a good long neck, perfect ears, and large eyes. Her canter was perfect, and her flat walk and running walk were truly as great as any ever displayed by Tennessee Walking Horses. Anybody could ride her, because she had perfect manners, and was gentle as could be. MERRY LEGS' tail was never set, but those who saw her said she carried it as if it had been.

                                      Trouble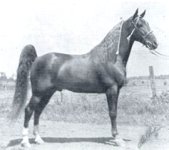 Foaled May 20,1936 Elsie Darrah States, "Her knowledge of Last Chance bloodlines started back in the 50's when my husband (Carl Darrah) bought "Trouble" who was a sorrel stallion with 2 hind socks and a narrow blaze.  His sire was Last Chance and his dam was Nellie Essay.  S.W. Beech showed him at the Celebration in 1941 where he was the World Champion Stallion.  He did not make World Grand Champion.  He sired a mare called Deep Purple who was the dam of Mack K Handshaker. He sired approximately 125 registered foals and probably as many foals from grade mares because in Kansas City there weren't many TWHs but he was extremely popular because he put his stamp on his foals and they walked.  He was an awesome stallion and died of a heart attack in our barn just prior to his 30th birthday.
We boarded and trained horses and so many of those were sired by Trouble and their gait was as natural as breathing.  Back then we didn't have to train them to gait and all we had to do was keep working on increasing the stride and speed.  It just took lots of saddle time but boy was it fun.  My husband and I used to have running walk races to test the horses we trained.  I wish the flat shod horses today could be trained the way we did it because it was so exciting to feel the speed and the perfect 4 beat gait with teeth popping and ears flopping.
It has been really tough to find that so many TWHs now have to be carefully taught the running walk and that most inexperienced riders can't enjoy the thrill of riding a TWHs that just can't do anything but a running walk and on a loose rein."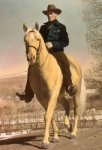 Flash La Marr 411549
Foaled April 13, 1941 Sire: Yellow Jacket Dam: Patty La Marr Flash La Marr was sold to a Daniel Bekins near Seattle, WA. and later on Encino, California. Flash's most notable offspring was Buck La Marr .


Yellow Jacket 360141
Bred by P.K. Fisher Foaled May 14, 1936 Sire: Last Chance Dam: Golden Lady Tom Moss described Yellow Jacket's gold color and that of his offspring as the most beautiful gold; a gold that he hadn't seen in any other palomino walking horse family. My mother described it as almost an orange/pink color. She said it was almost like a claybank. Yellow Jacket sired over 30 registered Tennessee Walkers. Flash La Marr and Yellow Jacket's Ace were probably his most notable offspring

Marie La Marr 501284
Foaled 1950. Died May 24, 1974. Sire: Buck La Marr Dam: Black Beauty Allen Marie La Marr's color could be described as an Amber Cream Champagne. Her daughter, Fairy Breese had a daughter , Little Breese, who had a champagne daughter, Little Breese Chinook. Little Breese champagne daughter, Generator's Fairytale is the dam of Delores Boyenga's champagne stallion, Legacy's Goldmine. Marie La Marr had 14 offspring. The Gay Parader and My Music Man were her most notable male offspring.

Roan Allen F-38
born on May 23, 1904. Died in 1930. sired by Allan F-1. His dam was Gertrude F-84 When the blood of ALLAN F- I and GERTRUDE were combined, it represented the most renowned bloodlines in America. The colt from this union, ROAN ALLEN F-38, proved to be the most outstanding performer and sire of saddle horses Middle Tennessee had yet produced.
Owned by J.R. Brantley Roan Allen produced over 400 registered offspring . Wilson's Allen and Merry Boy may be the most notable.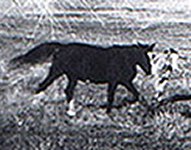 Black Beauty Allen 440890
Foaled July 1, 1935 Sire: Colonel Allen Dam: Kittie Jackson Black Beauty Allen was purchased from Tom Moss in 1949 and brought to our Big Arm Ranch. Black Beauty had 9 foals. Marie La Marr is with her in this photo. Sago (Black Beauty II), Buck La Marr, Rickey's Silver Star,Colonel D., and Melody O' Rollin Hills her most notable offspring. Sago had 17 foals. Beauty's Sage king and Beauty's Trail's End are notable, but so are all of her offspring, Sago (Black BeautyII ) always had very superior offspring. Colonel D. sired 18 offspring.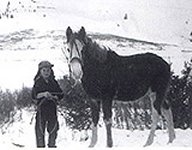 Chief O'Chiefs 481485Alice McBroom age 8 holding lead
Foal Date: 1948 Sire: Spiller's Gold Dust Dam: Richardson's Honey Chile Chief O'Chiefs sired 24 registered offspring. I believe all of his get were above average. His son, Chief Joseph , was the most prolific having sired 44 offspring. Chief O'Chiefs was used in competitive trail after Frank Smith bought him.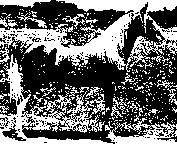 Chief's Allen 370210
Sire: King O' Chiefs, by Bourbon Prince, by Bourbon Chief
He has an enviable record in the show ring, In one year he was entered in 20 shows, of those 20 shows, he brought home 20 blues!  He is half brother to Fairy Queen, winner of two hundred ribbons, one hundred fifty of those were Championship ribbons!
Both his dam and grand-dam were also owned by Mr. Motlow.
Chief's Allen was the sire of Richardson's Honey Chile.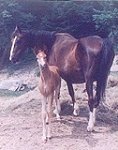 Rees' Ribbon
Owned by P.J. McCurry
Foaled June 14, 1974 Sire: Chief Joseph Dam: Rapid Rhythm Rees' Ribbon had 13 registered foals. Yellow Chief MCC, a yellow sabino was her first foaled in 1979. Her last is Ribbon's Radiant MCC foaled in 1999. Rees' Ribbon's son, Pride Of Ribbon MCC completed a 2000 mile trip in 2005, from Trego, MT to Albuquerque, NM.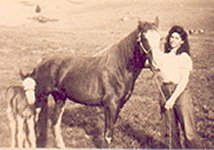 Richardson's Honey Chile 421307
Foaled April 28, 1942
Sire: Chief's Allen Dam: Dot C. Arrived at our Big Arm Ranch in 1947. Honey had 15 foals and it would be difficult to say which are the most outstanding. Her stud foal , Chief O'Chiefs, by Spiller's Gold Dust is with her in this photo. My mother, Marie McBroom, is holding Honey

Silvertip-Rickey 473752
Silvertip-Rickey Polson, MT rodeo parade. Marie McBroom up.
Foaled in 1946 Had to be put down due to an injury August 1, 1954. Sire: Trouble Dam: Strolling Beauty A. Arrived at our Big Arm Ranch in 1947. Rickey was line bred Last Chance. He was a superior ranch horse, sure footed, fast, and smooth. He was a natural born cutting horse and he loved to work. Rickey sired 29 registered offspring. I can't choose from these for the most notable because all of his offspring were way above average. Rickey's bloodlines are on the pedigrees of so many TWH in the Northwest and in Canada. He left a wonderful legacy. Of all the horses I have ridden there has not been any that can measure up to Silvertip-Rickey.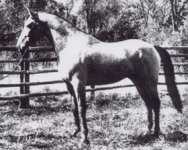 Buck La Marr
Foaled 1944. Died 1962. Sire: Flash La Marr Dam: Black Beauty Allen. Buck La Marr came to our Big Arm Ranch from Tom Moss' Rafter 33 Ranch Big Horn,WY in 1949. His most notable offspring were Buck's Golden Honey , Marie La Marr , The Gay Parader, and Baby Kay 2nd. Baby Kay was my mare when I was a teenager. She and I covered a lot of miles. Baby Kay's daughter, My Golden Playgirl had 3 yellow offspring and 2 chestnuts. Marie La Marr had 14 offspring. Buck's Golden Honey had 11 offspring and her daughter, Shadow Gold, had 15 offspring between 1960 and 1977. The March 1996 VOICE has an article on Champagne Walking Horses. Buck La Marr, his sire Flash La Marr, his sire Yellow Jacket, and Yellow Jacket's dam, Golden Lady, are all thought to be champagne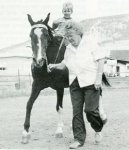 Sago (Black Beauty II) 540714

Pearl Tompkins at lead
Foaled in 1952. Sire: Silvertip-Rickey Dam: Black Beauty Allen Sago had 17 foals from 1955 through 1975. She was the 2nd foal that Black Beauty Allen had after she arrived at our Big Arm Ranch. Pearl Tompkins bought her from Mom when she was a 6 year old. When Pearl was close to 90 years old she was asked which tennessee Walker was the best she'd ever owned. She replied, "Old Beauty" referring to Sago (Black Beauty II). Every one of Sago's offspring were exceptional.

Chief Joseph 665349

Foaled May 13, 1966 Sire: Chief O'Chiefs Dam: Jolee Chief Joseph was registered as a chestnut but he was a black once his foal coat was shed off. Chief Joseph sired 44 registered foals. He was owned by Ross Howell until the early 70's. Ross showed him at various shows in the Northwest and Canada. He also used Chief Joseph to work cattle on his ranch near Big Arm. Ross said he was a pretty good cow horse. Chief Joseph was Jolee's last foal. She died in the Missoula,MT Fair fire when he was a weanling, August 1966. 

Lady
Lady is an unregistered mare by Apollo 8 H. We bought Lady after the Bozeman walking horse show. Lady is wonderful to ride, so smooth, and she neck reins very well. She also likes to work cattle and horses. Lady gave us 6 nice foals from Goldust and Chief. We retired Lady to Lyle's niece in Wisconsin.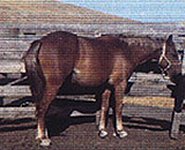 The Flying Feather 632809
Foaled: 1963 Sire: Hey Joe Dam: Lelani The Flying Feather's dam was a cross between Margaret La Marr and Silvertip-Rickey. Hey Joe by Silvaro Allen was owned by the Kaiser Family. The Flying Feather is the grand dam of a gorgeous buckskin mare we bought, Lady. Lady's sire was Apollo 8 H.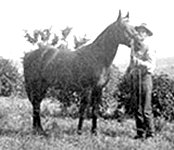 Golden Copperbottom 550224

Foaled in 1952. Sire: Silvertip-Rickey Dam: Patty La Marr.  Golden Copperbottom was sold to Jerry Cripe as a 2 yr. old. Copperbottom's most notable offspring were Allen's Jubilee I and Copperbottom Patty. Copperbottom Patty was bred to Mitch's Comet (Snow Prince Allen – Mitchy Mitch) The result was Patty's Silvertip foaled in 1964. Patty's Silvertip was bred to Fritzsces Merry Boy in 1966. Their stud colt, Coldwell's Pat, was the Foundation Sire for the Montana Travler Breed. Montana Travler I was sired by Coldwell's Pat and out of a mare called Cotton. Allen's Jubilee I was the sire of 10 registered foals. 4 of those were by My Golden Playgirl, a palomino daughter of Silvertip Rickey and Baby Kay 2nd, my mare.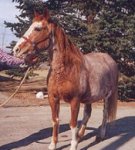 Shadow Of Tegun 773262
Owned by Earl & Opal Jones
Foaled May 19, 1977 Died : 1997 Sire: Montana Copper Dam: Shadow Gold Tegun had 10 foals. Our mare, Tegun's Mt. Fawn, was her first foal. Tegun's last foal was Silvertip Joe. When Tegun died Joe was 18 days old. Earl sold him to us. We raised Joe on goats' milk. Tegun's dam, Shadow Gold, is the mare that convinced Earl Jones that TWH were worth raising.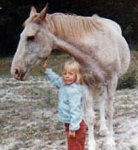 Chiquita Sago 550695
Foaled: 1955 Sire: Lightfoot Rickey Dam: Sago (Black Beauty II) Chiquita Sago was Sago (Black Beauty II) first foal. O.V. McCurry's granddaughter is by Chiquita in this photo. Chiquita had 15 foals; all mares except for two colts that were gelded. Chiquita has always been a favorite of the McCurrys. Her bloodlines can be found in TWH in the Northwest and in Canada.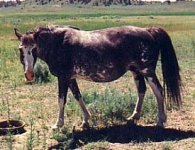 Tegun's Mt. Fawn
Foal Date: February 28, 1986 Sire: Ebony's Mt. Trapper Dam: Shadow Of Tegun Fawn has given us 9 foals. They have all been exceptional. She is retired.
Fawn competed against AQHA and APHA in barrels, poles, flag race, and western pleasure and won 9 ribbons with 4 first place. Eastern Montana All Breed Horse Show, Glendive, Montana.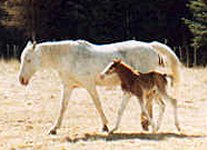 Fancy Ghost MCC 793859
Foal Date: May 1, 1979 Death Date: March 16, 2006. Sire: My Music Man   Dam: Chiquita Sago Fancy Ghost has many of the old Montana Foundation walkers on her pedigree. Fancy Ghost has 8 offspring. Her first in 1983 and her last in 2001.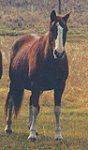 A Spiced Sundae MCC 834641
Foal Date: May 22, 1983 Sire: Blackberry Sunday Dam: Fancy Ghost MCC Sundae has had 11 foals. Her first is our stallion, GLL's Sun Chief foaled in 1990. Her last recorded foal is Judge Sterling foaled in 2003.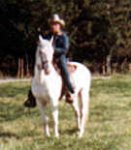 My Music Man 590518
O. V. McCurry Up.
Foaled: May 13, 1959 Sire: Reveille Boy Dam: Marie La Marr My Music Man sired 26 registered offspring. Every one of his foals were very colorful. He sired at least 7 white, 5 yellow, 5 roan ?, 2 buckskins, and 1 chestnut. The colors aren't recorded on some of his get. Every one of his offspring had a lot of white markings . He was definitely a sabino producer.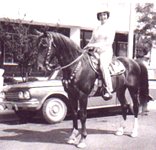 Rapid Joe 453195
Foaled: March 11, 1945Sire: The Traveler Dam: Nellie Flag Owned by C.W. Allen of Billings,MT and leased to Ross Howell of Polson, Montana from 1967 until the fall of 1968. Rapid Joe was a grandson of Roan Allen F-38. Rapid Joe sired 38 registered foals. He'za Walker , his very first foal, was foaled in 1965 when Rapid Joe was 20 years old. He'za Walker is seen on quite a number of Canadian Walking horse pedigrees. Clark Allen sold him to Charles & Marjorie Lacey. I am most familiar with Northfork Sky Walker, Jean Rempel's stallion. Rapid Joe was brought to Billings, MT in 1947. He and Richardson's Honey Chile most likely came in on the same truck. Fred Pierce who owned the Billings Livestock Yards, the packing plant , and a ranch in the Billings area bought him. Rapid Joe spent 17 or 18 years working cattle mostly on concrete at the stock yards. When this photo was taken Rapid Joe was 25 or 26 years old and so stiff he wasn't able to be ridden in the parade. Clark Allen could not bear to see Rapid Joe suffer or end up in a rendering plant. He ended Rapid Joe's life with a bullet ; a loving , courageous , and humane way to end the life of such a great friend and walking horse sire.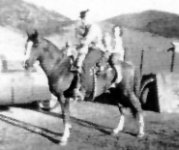 Hey Joe 531057
Foaled in 1953. Sire: Silvaro Allen Dam: Pet Talley Both owned by the Climbing Arrow Ranch. All four generations on his sire's side had Roan Allen F-38. Hey Joe's dam's sire's line was unknown. Pet Talley's dam was Molly T. by Walking Dan Allen 350079. Hey Joe sired his first registered foal in 1959 and his last in 1974. Hey Joe was owned by Robert Kaiser and leased to Pearl Tompkins . Hey Joe sired so many excellent walkers ; the most notable may be Beauty's Sage King, Golden Gold Glory, Lilli Bet, and Beauty's Barbaree. Hey Joe missed the fate of his sire & dam. Hey Joe was Silvaro Allen's last foal. A quote from the buyer of the Climbing Arrow Ranch , Peggy Allen, "the Tennessee Walkers we tried at the ranch fproved unsatisfactory and were not sure footed enough to make good stock horses for their use." Peggy Allen went on to say, "We advised the Forest service against their use as trail horses… though few horses can match their disposition. " The Tennesee Walkers who remained at the Climbing Arrow when it was sold were disposed of. (A kind way of saying they were shot.) Just think of the great bloodlines that could have been over the last 53 years.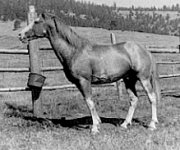 Lightfoot Rickey 501200
Foaled in 1950. Sire: Silvertip-Rickey Dam: Richardson's Honey Chile. Last Chance from his sire and Roe's Chief from his dam, Lightfoot was the first foal we had from Honey and Rickey. Lightfoot was sold to Homer Davis as a 2 year old. He sired 12 offspring , his first in 1953 and his last in 1958. The most notable of his offspring were Sago Lily, Fairy Breese, Miss Petunia, Chiquita Sago, and Colonel D.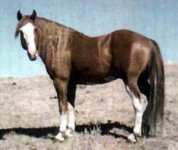 Reveille Boy 570415
Foaled in 1955 Sire: Silvertip-Rickey Dam: Richardson's Honey Chile Reveille Boy was the 2nd stallion from Honey and Rickey. He sired 18 foals. His first in 1959 and his last in 1969. The most notable were Fortune's Soldier, Merry Boy Blue N., Sabina Shadow, My Music Man, Goldie's Alibi, and H.D.'s Easy Money. Grace said that when her oldest daughter was 2 years old they enjoyed a very smooth ride on Reveille Boy. His disposition matched his sire's.

Montana Travler A I
Sire: Coldwell's Pat by Fritzsches Merry Boy and out of the mare Patty's Silvertip. Dam: Cotton Mt Tr F 01 The Montana Travler Horse Association : "In the early 70's an exceptional colt was born from the lineage of Tom Eaton's Morgan/ASB stallion. (Cotton Tr F 01 crossed with Patty's Silvertip) Montana Travler (A 1) was a sorral stud that stood over 16 hhs, with a unique natural class and dignity that was noted from birth. He had a beautiful head, luxurious mane and tail,and a back that was designed to hold a saddle perfectly. At the urging of friends it was decided to start a registration for horses carrying the genes of this horse, bred to quality mares eligible for registration as trained two year olds (rather than at birth) after approval of the directors. The horse must exhibit conformation, disposition and gait consistent with the foundation sire. In 1989 the Montana Travler was named the official horse of the Montana Centennial as it is the only breed developed in Montana. "

Zephyr's Flash O' Gold 472608
Sire: Allen's Gold Zepher was owned by Calvin Miller. His first foal was Flash's Dixie Allen in 1950. His last foal was Pure Bronze in 1968. He sired 42 registered offspring. His last foal born at Calvin Miller's was in 1959, Calvin's 24th registered foal by Zephyr's Flash O Gold. My mother, Marie McBroom traded Calvin 2 fillies for Zephyr's Flash O Gold in 1959. They were Melody O Rollin Hills and Col.'s Princess Pat . Col.'s Princess Pat was bred to Calvin Miller's stallion, Liberace's Playboy. Their stud colt, Red Cloud-V foaled in 1964 was one of Gene Autrey's Champions. Melody O' Rollin Hills had 6 foals for Calvin and was sold to Raili Tenkula in 1966. Raili's family learned to ride on her. My mother trained her before she was traded to Calvin. Zephyr's Flash O' Gold's most notable after Mom had him were Miss Belenda, Sattin D.,and Flash's Honey Rose.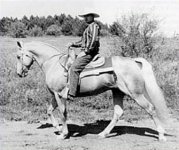 Tennessee Goldust 860734
Foaled May 9, 1986 Sire: Chances Cream Chance Dam: Gay's Go-Go Girl.
TWHBEA's 1995 choice for representing the palomino pleasure horse in hand at the prestigious Royal Agricultural Winter Fair and Horse Show in Toronto, Canada.
Tennessee Goldust has sired 140 registered offspring. His offspring have done well in the TWH Futurities. Tennessee Goldust has no Midnight Sun on his pedigree. Our stallion, Goldust Royal Trigger was sired by him.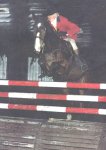 Sun Glow's Bay Lady 706593
Foaled June 12, 1970 Sire: Sun Glow P. Dam: Kirklin's May Day Sun Glow's Bay Lady had 2 foals; Drifter's Royal Lady foaled in 1983 (Dam of our Goldust Royal Trigger), and Drifter's Royal Mark in 1985. Sun Glow's Bay Lady was Grand Champion TWH Over Fences 1976, 1977, 1982, and 1983. Trained and ridden to those championships by Leo Barth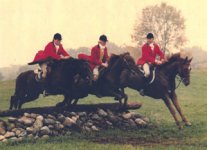 Heir's Royal Drifter 794986
Heir's Royal Drifter center-Leo Barth up
Foaled September 18, 1979 Sire: Golden Heir Dam: Scarlet Rose K. Drifter sired 7 offspring. His first, Leo's Samantha, in 1982. His last, Drifter's Delight in 1985. Drifter's daughter, Drifter's Royal Lady, is Goldust Royal Trigger's dam. Leo Barth trained and showed Heir's Royal drifter to 6 World Championships Over Fences ; they did this every year from 1984 thru 1989. Drifter was sold and went to Japan September 23, 1990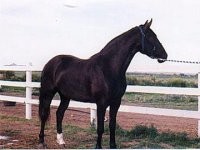 King Pins Mt. Princess 922440
Foaled May 7, 1992 Death July 7, 2002 Sire: King Pin Dam: Tegun's Mt. Fawn Princess gave us some beautiful foals and she left behind King's Mountain Prince for Kyya & Don Grant. Prince was foaled June 9, 2002.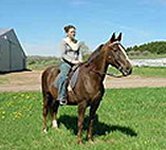 Drifter's Royal Lady 830581
Foaled May 9, 1983 Sire: Heir's Royal Drifter Dam: Sun Glow's Bay Lady At the age of 14, Drifter's Royal Lady was chosen 2nd of 8 entries in the Get Of Dam class 9-14-1997 WHAM Horse Show Lady has had 13 foals ; her 1st was Royals Own Gold. Her last was Goldust Royal Storm FS foaled May 7, 2003. All of Lady's foals have been sired by Tennessee Goldust. Drifter's Royal Lady is Goldust Royal Trigger's Dam.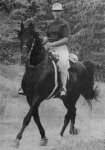 King Pin 790407
Foaled May 16, 1979. Sire: Queen's King Dam: Lady Boss H. King Pin sired 36 registered offspring. His first, Williams Caesar was foaled in 1983. His last, King Pin's Crescent Moon was foaled in 1997. King Pin has many placings in English & Western Pleasure, poles, trail, waterglass, and jumping. King Pin was 2nd in the TWHBEA Long Distance Program in 1992. He's been a Grand Champion Model Horse in Montana and Colorado.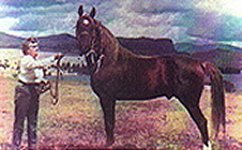 Fritzsches Merry Boy
Fritzsches Merry Boy & Pearl Tompkins
Foaled in 1961 Sire: Merry Boy's F-88 Dam: Fritzsches Failure Fritzsche's Merry Boy sired 95 registered offspring. His first foal was a white stud colt, Blanco Sol foaled in 1965. His last foal was born in 1982, TN' T Merry Boy is probably the most notable of all of his offspring. TN' T Merry Boy sired 43 registered foals. Coldwell's Pat, Glory's Gold Chiffon, Cheffs Dandy Boy,Cheffs Peaches, and Cheffs Goldie Allen are also notable. When Pearl retired she sold her place and the remaining walkers to the Taylors. Fritzsches Merry Boy remained in the Taylor's name altho he spent his last years with the Cheff family near St. Ignatius, MT. Their first foal crop was 1976 and the last, TN' T Merry Boy was born in 1982.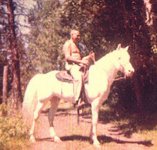 Snow Prince Allen 501452
Foaled in 1950. Sire: King Longstep Allen Dam: Roan Merrie Maid Snow Prince Allen sired 15 registered offspring , the first Jocko King in 1957. The last Big Sky Comet in 1963. Most of his offspring are notable but those I will mention here are: Glamours Sugartime, Mitch's Comet, Tamarack Kid, Prince Radar, Princess Chilowee, Syringa Lady, and Snow Bird F.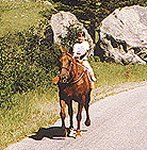 May's Copper Nutmeg 763001
"Meggie" taking care of Amber , our granddaughter age 8.
Foaled June 13, 1976 Death December 9, 1994 Sire: Montana Copper Dam: Midnight's May Girl