DON McDONALD and MISTY DARK DELITE M.
CRTWH (1982) 1033
Nomination for Century Partners
I would like to nominate DON McDONALD of POUCE COUPE, BC and the stallion MISTY DARK DELITE M. CRTWH 1033, above, as Century Partners.
McDonald Farms has been home to Tennessee Walking Horses since 1974, and since that time over 150 purebred foals have been raised on the farm. Darkie was born there in 1982, and was kept as a stallion for his good looks and quiet disposition, also bringing in different bloodlines through his sire. He has 25 offspring registered with CRTWH. See his story and the story of how McDonald Farms got started with TWH below.
To Don, who saw the potential in Darkie and gave him a chance, and to Darkie, for having the grit and good nature to overcome a severe setback as a foal to go on and make a contribution to the breed, Congratulations. You deserve to be recognized as Century Partners!
Marjorie Lacy
Misty Dark Delite (Darkie) is the first stallion to be recognized in the CRTWH Century Partners. Don, his partner, is a quiet man who is content to remain in the background and let Darkie take the lead role in their partnership story.
Don and Darkie
By Jo-Anne McDonald
Don's and Darkie's collaboration began in 1981 when Jo-Anne and Don purchased a stud fee at a local stallion auction. We purchased a breeding to the Tennessee Walker stallion named LH Sur Me Big. We decided to breed one of our good mares, Doll O' The Mist, to this local stallion.
On May 29, 1982 a bright-eyed black colt was born to this union. We decided on the name Misty Dark Delite M. All things proceeded as usual for that first summer. Darkie was weaned in the fall with the rest of the foals. In the spring of 1983 someone wanted to purchase Darkie for his future herd sire.
The Injury that Changed Darkie's Life
It was then that we noticed that Darkie had a co-ordination problem. We called the veterinarian for a diagnosis. He took one look and said he was a "wobbler". What was this all about? The vet examined Darkie and it was apparent that he had sustained an injury (which had healed but left white hair remaining) to the near side of his neck. Apparently this is where all the main nerve centers run to control his back end. Darkie appeared as a drunk would walk, he staggered and swayed and was not all that safe to be around as his stopping was quite uncoordinated and sometimes he would just fall down. As we searched for answers as to how he had been hurt we found pictures of Darkie before he was weaned and saw that he already had the white spot, so whatever happened to him must have happened as a baby. We speculated that he may have run into a stick while out at pasture.
Needless to say the sale was off, but Darkie blossomed into a beautiful stallion. We had not had him gelded as our vet said he would not likely survive coming out of the anaesthetic with his condition. We considered having him put down but the vet assured us his condition was not painful or hereditary but due to the injury on his neck. He was so beautiful that we decided to try him at stud. We bred a couple of our own mares before offering him at public stud, just to make sure he could not pass the problem on. He was also learning to cope with his disability as he matured and was moving in a much more normal manner, apparently common with this type of injury. The fact that Darkie was a stallion and not a riding horse likely saved his life in this case.
Darkie's Offspring
Darkie sired those first two foals for us and they were just fine. One is Dark Star Delite owned by Sandy Amy of British Columbia. There was also a full brother to Delite who was known as Patience Delite. Since then Darkie has sired many foals over his 32 years and we still have three of his daughters here on the farm. In fact we had to buy two of them as Darkie was notorious for giving us the stud colts while everyone else got the fillies.
First Test Foal
Dark Star Delite with Sandy Amy                         Dark Star Delite with Jana Jacobson
Darkie has a wonderful nature, very easy going and nice to handle, and a nice gait… when he finally got it together. His foals too are easy going and therefore they tend to be level headed and have that wonderful natural gait.
Just the other day, as we were talking of Darkie, I reminded the vet of what he'd said to us 31 years ago. He had said that likely Darkie would not live too long and we would just find him gone one morning. The vet just grinned and said, "What can I say". We are so glad Darkie proved him wrong.
Darkie has been a joy to have around, only escaping once in 32 years. That time he collected two mares, Handshaker Candy and Sage King's Diamond and her twins. My, he was proud of himself! I thought I would just put him back in his corral but Darkie had other ideas now he had his own little band of mares! I had to call Don home from work to assist with the separation.
We know that, at his age, he will be gone one day soon, and we do so dread that day.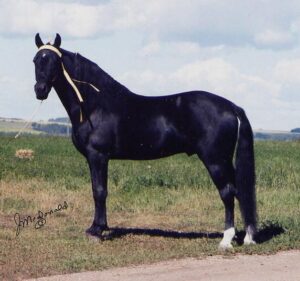 Progeny of/Progéniture de – MISTY DARK DELITE M 1982-1033-
2 SUNS CHANCE 1993-1240- Stallion/étalon Tennessee Walking
AWARE MISTY SURPRISE CDN -652- Mare/jument Tennessee Walking
AWARE'S DARK LADY CDN -653- Mare/jument Tennessee Walking
AWARE'S DIAMOND LIL -831- Mare/jument Tennessee Walking
AWARE'S MERRY DOLL CDN -748- Mare/jument Tennessee Walking
AWARE'S SOCKS 1991-1015- Mare/jument Tennessee Walking
AWARE'S T C 1991-1014- Gelding/hongre Tennessee Walking
DARK CELTIC CHANCE 2002-[CAN]2809- Gelding/hongre Tennessee Walking
DARK CHIEF DELITE 1995-1527- Stallion/étalon Tennessee Walking
DARK CLASSIC DELITE 1992-1064- Mare/jument Tennessee Walking
DARK MONTERAY 1994-1414- Stallion/étalon Tennessee Walking
DARK STAR DELITE 1990-1121- Mare/jument Tennessee Walking
DARK THREAT DELITE 1998-[CAN]2100- Gelding/hongre Tennessee Walking
DARKIE'S BART SIMPSON 1996-1735- Gelding/hongre Tennessee Walking
GENIE'S DARK MAGIC M 2006-[CAN]3235- Mare/jument Tennessee Walking
MERCY ME DELITE 1995-1529- Mare/jument Tennessee Walking
MISTER BO JANGLES CMR 1997-[CAN]2235- Stallion/étalon Tennessee Walking
MISTER MOONBEAM 2008-[CAN]3479- Stallion/étalon Tennessee Walking
MOON BEAM'S BLACK SAGO 1999-[CAN]2234- Stallion/étalon Tennessee Walking
MOONBEAM'S APPLE ANNIE CMR 2000-[CAN]2602- Mare/jument Tennessee Walking
REGGIE'S RENNIE 2005-[CAN]3508- Mare/jument Tennessee Walking
REGGIE'S ROBIN 2007-[CAN]3367- Mare/jument Tennessee Walking
ROYAL CLASS DOUBLE DELITE 1995-1539- Mare/jument Tennessee Walking
ROYAL CLASS MY LACY LADY 2000-[CAN]2496- Mare/jument Tennessee Walking
SNIP'S DELIGHTFUL IMAGE 1999-[CAN]2279- Mare/jument Tennessee Walking
 Dark Celtic Chance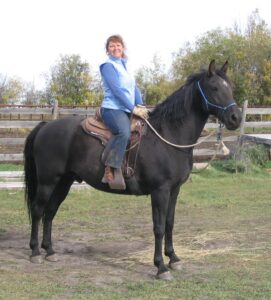 Dark Threat Delite
Genie's Dark Magic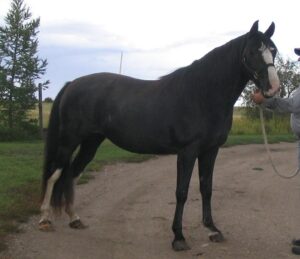 Royal Class Double Delite
Royal Class My Lacy Lady
Snip's Delightful Image