Forsyth, Montana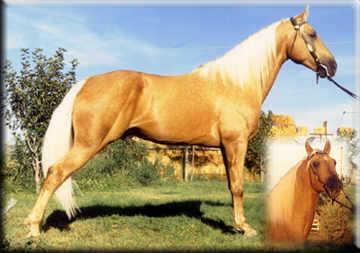 **IN LOVING MEMORY**
1993 – July 21, 2008
Registered: PWHR, TWHBEA, PHBA, RHBAA and NASHA
Goldust  is a proven sire and grandsire, Goldust's Offspring are easy to train. He produces a high percentage of color and always very beautiful heads. They have good bone, wide chests, short backs, and a nice eye.

His offspring are in CA, MT, SD, ID, LA, WY, and Canada.
Goldust Royal Trigger is the perfect match with Generator mares. He is producing exceptional colts from All Breed mares. Goldust's offspring have won a Grand Championship and several blues in both Open and TWH shows. Goldust is producing awesome color when bred to Appaloosa mares.

Goldust has never been shod, he is a sheer joy to ride; smooth and elegant with incredible beauty. He is another great son of Tennessee Goldust.

1993 Weanling Champion  Michigan Spring Fling 3 Weeks Old
1996 High Point Stallion Eastern Montana Horse Show Circuit
Blues in Western Pleasure & Reserve in Equitation


**CAUTION: Satellite or DSL recommended**




Sire
Tennessee Goldust
860734 Yellow
Sire
Chances Cream Chance
753359 Yellow
Sire
Chance's Gold Dust H. by
John A's Chance
Dam
Radiant Golden Girl by
John A's Chance
Dam
Gay's Go-Go Girl
677455 Chestnut
Sire
Kirklin's Glory Boy by
Glory's Cando
Dam
Hal's Gay Lady by
Rambling Gay-Mac
Dam
Drifter's Royal Lady
830581 Chestnut
Sire
Heir's Royal Drifter
794986 WGC Over Fences
Sire
Golden Heir by
Go Boy's Royal Heir
Dam
Scarlet Rose K. by
Kirklin's Glory Boy
Dam
Sun Glow's Bay Lady
706593 WGC Over Fences
Sire
Sun Glow P.
WGC Over Fences
Dam
Kirklin's May Day by
Prince Merry Boy




Direct Inquiries To:
Lyle & Grace Larson
53 Kraus Lane
Forsyth, Montana
406-356-2854

Goldust Royal Trigger proudly announces his Colorful Grand Foals! Where the legacy continues…

Cloudwalker


Cloudwalker as a weanling NASHA reg. Buckskin gelding now owned and ridden by Irvin Blackie, Gardiner, MT
Royal Prairie Rose

Goldust's filly, Royal Prairie Rose, placed second in the yearling halter class at the Inland Empire Grand Celebration held at Spokane, WA August 8 and 9, 1998. She won Grand Champion of three Halter Classes at the Kootenai County Fair Open Show.

Royal Prairie Rose was among the top 10 TWHBEA Model horses in Adult Versatility. This is quite an achievement for a Two Year Old! 

Rose performs in parades & at the San Antonio Rodeo & Livestock Show with a palomino horse group.

Congratulations to Billie Wolff and Rose!

Bitterbrush Cascade Myth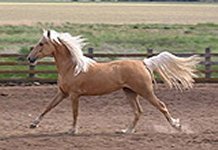 owned by Kyya Grant of Othello, WA

Comments:

Montana Royal Trigger (owned by Jodie Hunt of Olney, Montana): "He is blowing every one away over here. He is pastured just off the main highway and cars pull over and stop, people get out of their cars to get a good long look at him."

From Rick and Chris of North Carolina, on Goldust's gelding, Slush Creek's Gold Strike: "We do think Goldstrike is extremely special and beautiful! You should see him since he shed out this year. He is darker than last year's picture and has dapples on his hips. His mane & tail is growing and glistens like silver! We now have him started under saddle and he went on his first trail ride last week. We were so impressed with him. He has beautiful conformation, color and is so intelligent. Everyone that sees him comments on his conformation and looks."

From Butch Howell; on a cremello son of Goldust: "He is 15.2 and has 30 days on him. We are putting another 30 on him starting in March. He's a well-behaved stud and we haven't bred him yet. He has good trail manners and very good halter manners. He'll be a good one — if we don't sell him, it won't hurt our feelings!"

From Bob Miller, Great Falls, MT, owner of three foals from '98: "The Tobiano and Cremello stud foals have about the nicest conformation and presence of any colts ever born on my place. I plan to keep all three for now."

Rodney LaCombe, Billings, MT, owner of a two-year-old palomino gelding and a liver chestnut filly: "Their disposition and conformation is as good as it gets."

Vickie StenmoI: " …saw one of your palomino's stallions filly on a tape… she is AWESOME!"

Kris Quaintance: Eclair (our Goldust filly). "I don't plan to sell her. . . she's a very nice, gaity filly who I can breed King to and get a wonderful foal."

Dean Tesolin, Lac La Biche, Alberta, Canada, owner of the two-year-old stallion, Royal Yellowstone Gold. "If I lost Stoney it would break my heart. I tell mare owners that if they see Stoney, they will breed to him."

George Sharpe, Munson, Alberta, Canada, mare owner who took three mares to Stoney this year: "I wanted a bigger stud and a palomino. Stoney is a good-looking palomino with good, long, straight legs. He stood calmly when tied near the mares, no pawing or carrying on at all."

Dean Tesolin reports that Royal Yellowstone Gold is his personal horse; he uses him for roping and working cattle; they run 3000 head of cattle; his friends that ride with him say that "Stoney is so beautiful he is like a Fairy Tale."

Mitch Jackson, Utah, has "the black stallion" IM Treasure out of Goldust; he said he is the easiest horse he's ever trained; he's ridden him into rough country with friends, one was riding a mule, and Treasure was incredible; he said his walk is awesome. He leads Treasure with his children aboard he is so calm and gentle. He said this is the first walker he's owned that hasn't stood and pawed when tied.