Forsyth, Montana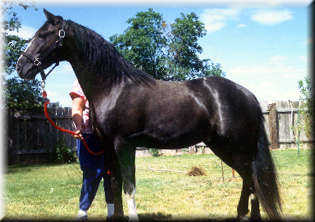 Registered: TWHBEA and NASHA
Chief stands 14.3hh
  Thirteen years at stud. He is a proven sire and grandsire. Chief's offspring have been well gaited and very athletic. They have excellent conformation with wide chests, short backs, and good bone. Chief's foals are very gentle and easy to train with wonderful temperaments.
Breeding Fee:
*We do not pasture breed*
$350 Live Foal Guaranteed
Non-Refundable Booking Fee*: $100. Live Foal Guarantee.
Mare care:
$5.00 Day Dry * $8.00 with Foal
Negative uterine culture, Coggins Required.
We ask that your mare be up to date on worming, vaccinations including strangles
We have several excellent Equine Veterinarians close by with Ultrasound Services available.
Conveniently located 2 miles off I-94 , exit 87 , Forsyth , MT .
Sire


Sun Wall MCC
822930 Black

Sire


Sun's Last Nipper
666581 Black

Sire
Midnight Sun by
Wilson's Allen

Dam
G. Allen's Sunday Gal by
Sir Wilson Allen

Dam


Ree's Ribbon
745668 Chestnut

Sire
Chief Joseph by
Chief O'Chiefs

Dam
Rapid Rythm by
Rapid Joe

Dam


A Spiced Sundae MCC
834641 Lit Up Sorrel

Sire


Black Berry Sunday
796453 Black

Sire
Copy's Good News by
GLL's Carbon Copy

Dam
Masterpiece's Cheri by
A Masterpiece

Dam


Fancy Ghost MCC
793859 Maximal Sabino

Sire
My Music Man by
Reveille Boy

Dam
Chiquita Sago by
Lightfoot Rickey
Direct Inquiries To: 
Lyle & Grace Larson
53 Kraus Lane
Forsyth, Montana
406-356-2854
GLL's Sun Chief proudly announces his Grand Foals!
Bitter's Wind Weaver owned by Barbara Hill, Missoula, MT
Son Of The Morning Star

Son Of The Morning Star. Owned by Lyle & Grace . Ridden by Grace

Chief's Wind Shadow



Shadow is proudly owned by Sue Best of Warner Springs, California.

Comments:

Randy Sayre, Billings, MT, trainer: "Son of the Morning Star was gentle, easy to work with, and did everything right."

Glenna Holm, Rosebud, MT, owner or three-year-old stallion out of Chief, and several grand-foals: "Buyers can save money on training costs because these horses gait naturally and have gentle dispositions."

Ross Rinas, Conrad, MT, owner of two Tobiano half Tennessee Walkers out of Chief: "They were born walking, and their natural gait has only gotten better."

Kate Bertin, Hysham, MT, bought a buckskin colt out of Chief. "Sundance is incredibly gentle and calm, and a fast learner. At eight months, he leads at a walk and a run, can load, have his feet handled and has calmly allowed a four-year-old child on his back. He's a sweetheart!"

Pam Loney, White Sulphur Springs, MT, owner of four-year-old Chief's Mountain Honey (bought through the Plantation Showcase as a weanling). "Honey loves people. She has a calm, willing disposition, and her lope is wonderful; she takes both leads automatically. Honey even pulls a sled with three noisy children aboard – nothing bothers her."

Roy Dolbear, Colstrip, MT has a 1/2 walker son, Traveler; he's taken him on his first hunting trip into the mountains where he performed exceptionally well. He said Traveler has been so personable and easy to train and handle.

Ann Cantrell, Shepherd, MT has a black, blaze faced daughter, Angel; she said this mare was so gentle that after her ground work all she had to do was get on and ride off. Ann said Angel is very agile and fast on her feet.