NANCY'S SECRET PRIDE and JAYNE WALKER
Nominated by Jo-Anne McDonale
HOW I GOT STARTED IN WALKERS
BY: JAYNE WALKER
My adventure got started in the mid-eighties with a move to Dawson Creek from Revelstoke B.C. My daughter, Diana, had a friend who had recently passed away so I thought that a horse might just be the thing to help her through her grief. It did help Diana and she thought that I should also get a horse. Her horse was an anglo-arab and I thought that I would like a different breed. I had a friend that owned a walking horse at that time so she knew someone who would help me find a suitable mount. It was then that I made the acquaintance of Herm and Phyllis Abel. It was through them that I bought my first walking horse gelding, his name was Merry Sailor Boy. I did lots of riding with Sailor,
and he wasn't the easiest of horses but he and I got along just fine. Sailor and I did the Expo ride from Vancouver to 100 Mile House in the Cariboo. What an accomplishment, very proud of Sailor and also proud of myself!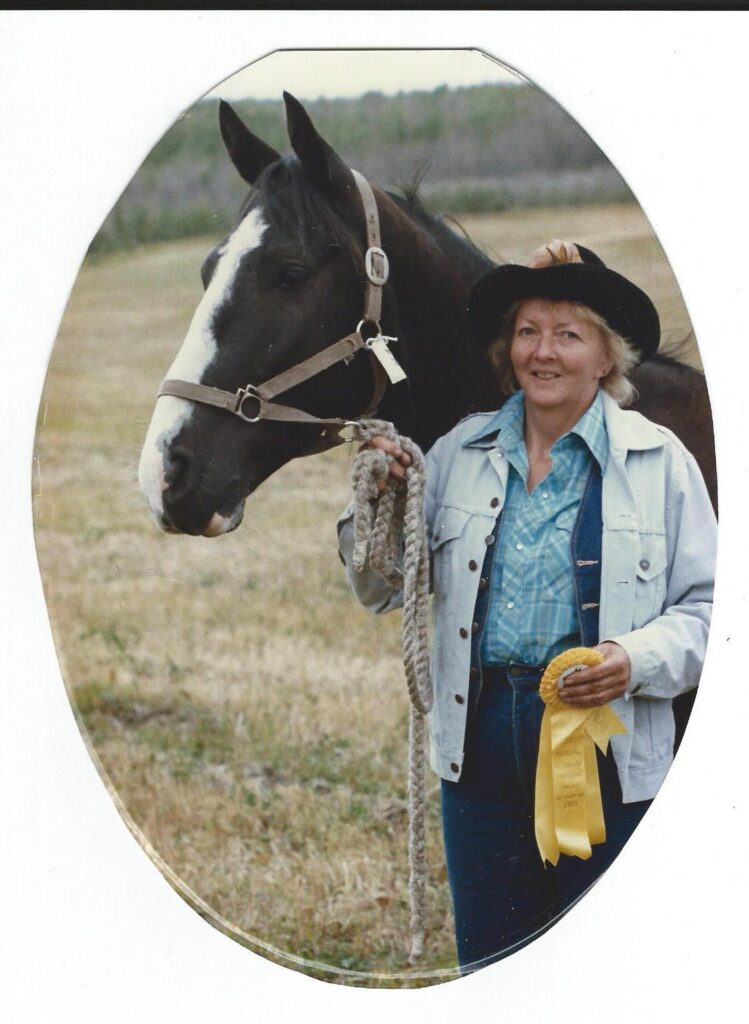 Jayne and Sailor after a competitive Ride in the Peace country
Jayne and Sailor on a Competitive ride near Dawson City
I then purchased a big bay mare, Sue's Walking Eagle (Babe) from Earl Lindsley. About this time I also got into the breeding business with a purchase of the Merry Go Boy bred stallion Go Boy's Crown Royal. I raised a few foals from my mare and stallion and had lots of people breeding to the royally bred big black horse. Go Boy's Crown Royal was sired by Merry Go Boy and out of a Midnight Sun Mare. A royal cross indeed.

Go Boy's Crown Royal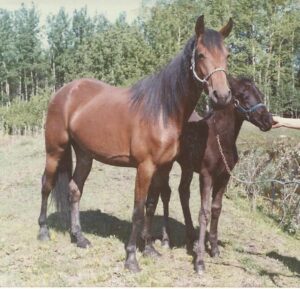 Sue's Walking Eagle and colt Roy L Canadian Dancer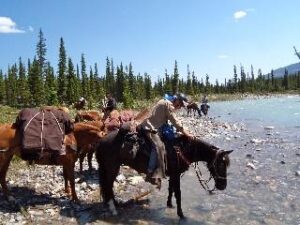 Royal's Last Class Act sired by Go Boy's Crown Royal and out of Monteray Supreme was bought by Keith Oberle. Under Keith's ownership, Classy was one of the first Canadian Registered TWH to obtain the Gold in the Program for Excellence sponsored by CRTWH.
I still have some horses on the farm from my excursion into the breeding business. I am no longer breeding horses as that era ended with the death of my old stallion in 1994.
I still ride on occasion and have my old "faithful" gelding Secret to ride at these times.
Nancy's Secret Pride
Nancy's Secret Pride, born in 1984, was sired by Secret's Upstart and out of Little Nancy Go Go. Jayne bought this big bay gelding when he was three years old. Jayne and Secret started their journey when Secret was able to be ridden at 5 years old. Jayne and Secret did lots of touring in his first few years with her. They enjoyed many trail rides together, some of them being the Cadomin Mountain trails in Alberta, The Cariboo Ride in central B.C., as well as many local trail rides.
While they were on the Cariboo Ride, another lady on the ride fell in love with Secret. She just HAD to have him, so Jayne sold him to her. Jayne had purchased her own stallion at the time and was getting into the breeding end of things, so she decided to let Secret go to a new home. Secret was out of Jayne's life for 15 years. When his new owner wanted to retire him, she approached Jayne about giving him a final home back where he had originated. This was at least ten years ago.
Secret has gone on many local rides since his return and because of his wonderful nature has taught many the joys of riding a walking horse. Secret continues on into his thirties to give occasional rides to those who appreciate that "glide ride".
Secret loves parades too..
Secret is a happy and healthy 30 years young in 2014 and he and Jayne (who makes up the rest of the 100) still go for rides around the farm. Secret has always been a willing and able partner.
How wonderful to have been associated with a horse that long! They are truly Century Partners.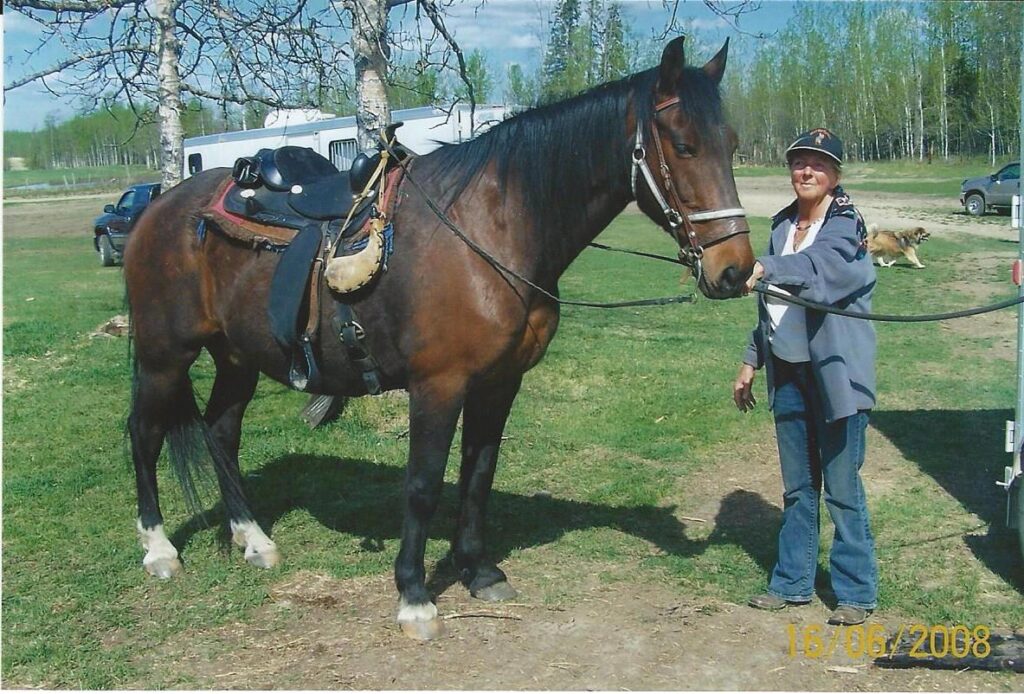 Jayne and Secret in 2008
Nominated by Jo-Anne McDonald, Pouce Coupe, BC