Murray McCargar and Ranger
On February 19, 2014 Murray McCargar and Ranger qualified as Century Partners.  Murray was literally counting the days until he and Ranger could become Century Partners.  He handed in the following chart as of February 19
 Murray 76 and 55 days
 Ranger 23 and 310 days
 TOTAL 99 years and 365 days.
Murray McCargar was born in Southern Saskatchewan sometime.  He walked and biked to Kelstern School.  Murray showed me pictures of him as a small boy and all of them involved horses except for the one that was a school picture.  Murray remembers riding the thrashing teams in for lunch:  he felt so important and was making decisions, but in retrospect, he realizes he was no more important than a fly.  Murray remembers the Ovens Ranch in Calgary and watching his uncle ride in the Calgary Stampede parade in 1947.
As a young boy, Murray wanted his own horse, but got a bike instead.  His friends had horses and wanted a bike, so Murray had a valuable trade – a ride on a bike for a ride on a horse.  Murray saw his first Walker in 1950 in the Mortlock Saskatchewan area.  The field trailers from the US came up to the Prairies to train dogs and brought horses with them.   Murray never forgot those horses and dogs and in 1977 Murray bought his first Tennessee Walker from Gerry Arlington of Washington.  This was the beginning of Murray's relationship with the Tennessee Walking Horse.
Murray has owned a number of Tennessee Walking Horses through the years.  This is Joe's Josie with Murray and an injured dog being transported to a field trial camp.  This photo was taken at the A7 Ranch West of Nanton.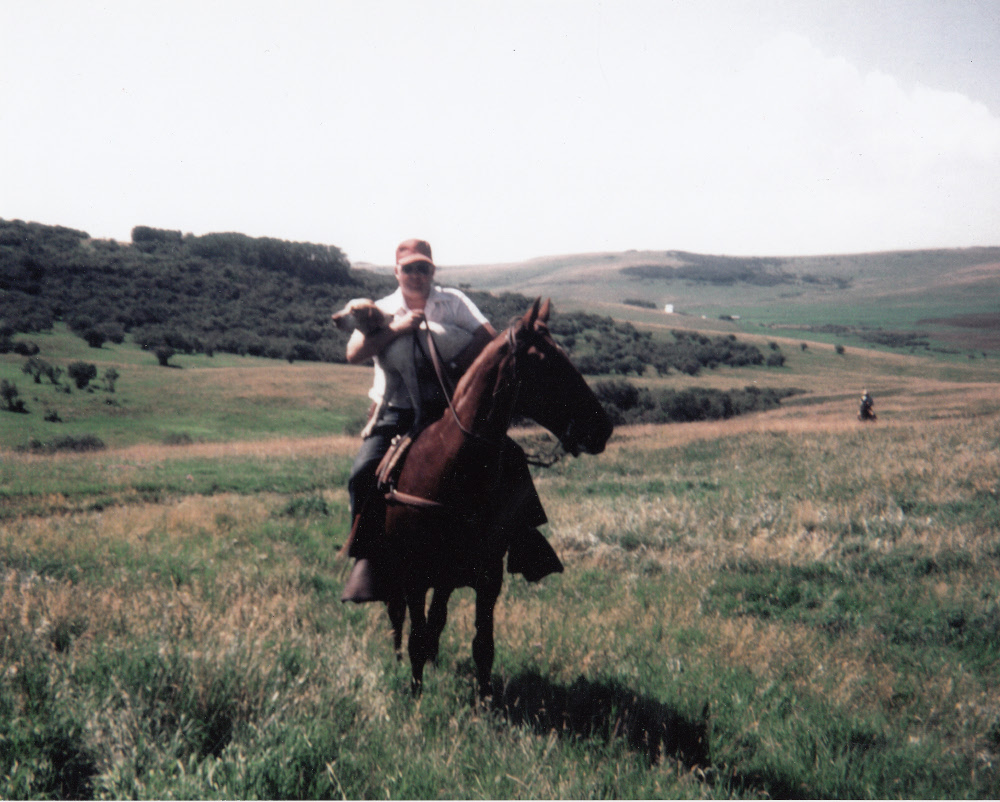 Murray and his dogs and horses travelled the skies through the EnRoute magazine distributed to all passengers on Air Canada. Field Trails and these who participated were considered worthy of an article read by all airplane passengers.
Murray and his horses have been photographed by the famous photographer Bruno Engler of Banff Alberta. The following Pictures were taken by Bruno in Canmore in 1981. Murray is riding Joe's Josie and working Murmax Brass Lady and English Pointer.
Murray in still interested in the sport of Field Trialing. In the summer of 2013, he and Mari-Anne were in the gallery at the 50ieth anniversary of the Big Country Field Trial which is run in the Big Country south of Coronation, Alberta.
Dogs and some of the Gallery at the 50ieth Anniversary of the Big Country Field Trial
Murray is a strong supporter of the Tennessee Walking Horse. In 1979, Murray and Mari-Anne were founding members of the Alberta Walking Horse Association and continued to serve on their board through the formative years. They were honored at the 25th anniversary of the AWHA founding at the annual Alberta CelebrationHorse Show. Murray has continued his promotion of the Tennessee walking Horse by participating in demonstrations, booth "duty" at the Calgary Stampede and parades throughout Alberta.
Ranger and Murray represent the Tennessee Walking Horse in Rum Runner Days in the Crows Nest Pass.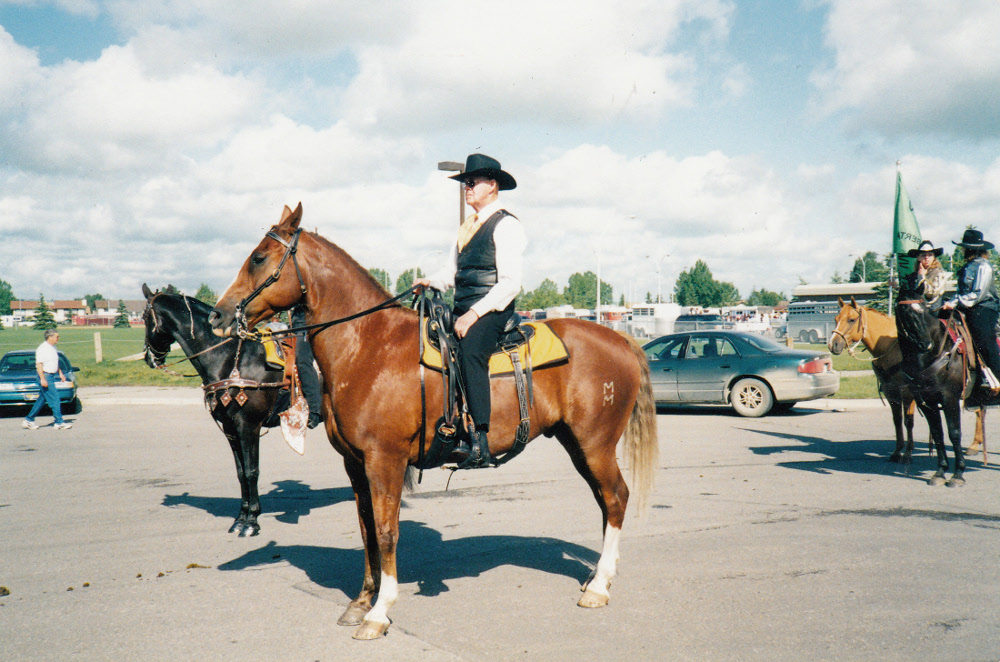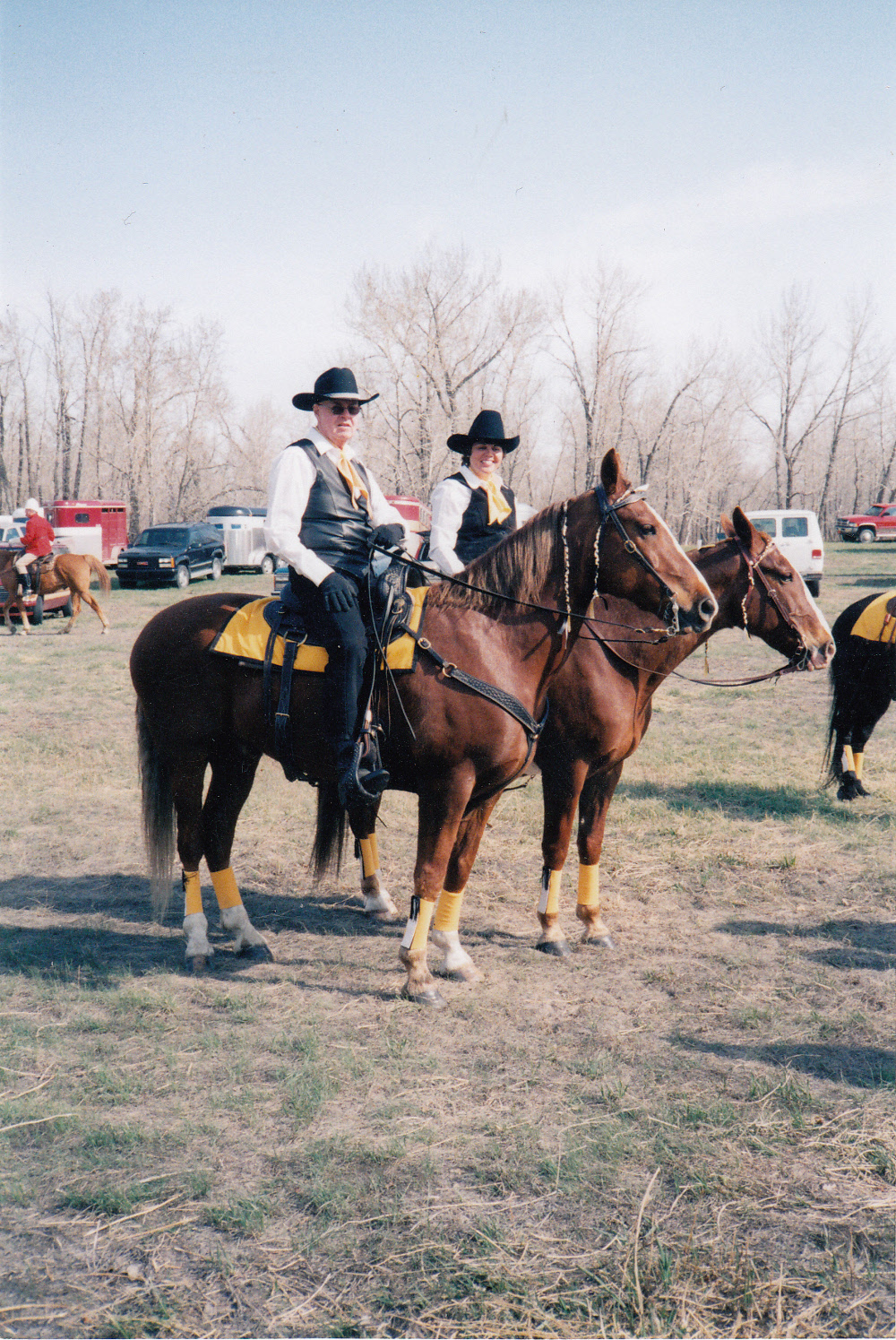 Vera Hari and Murray lining up with other members of the Easy Rider Division of the Alberta Walking Horse Association for one of the many parades they participate in Southern Alberta.
At one point Murray entered the breeding business and bought a bred mare from the US – Whoa Baby Whoa. The resulting foal Paint Pushers Jumpin' Jack (Jack) still lives with Ranger.
A number of years ago, Murray semi retired to Southern Alberta. He took Ranger and Jack with him and boarded them on a large parcel of land. This land was home to wild animals including at least one family of Grizzly Bears. It was during this time that Ranger and Jack learned to live in relative wilderness and cope with wild critters.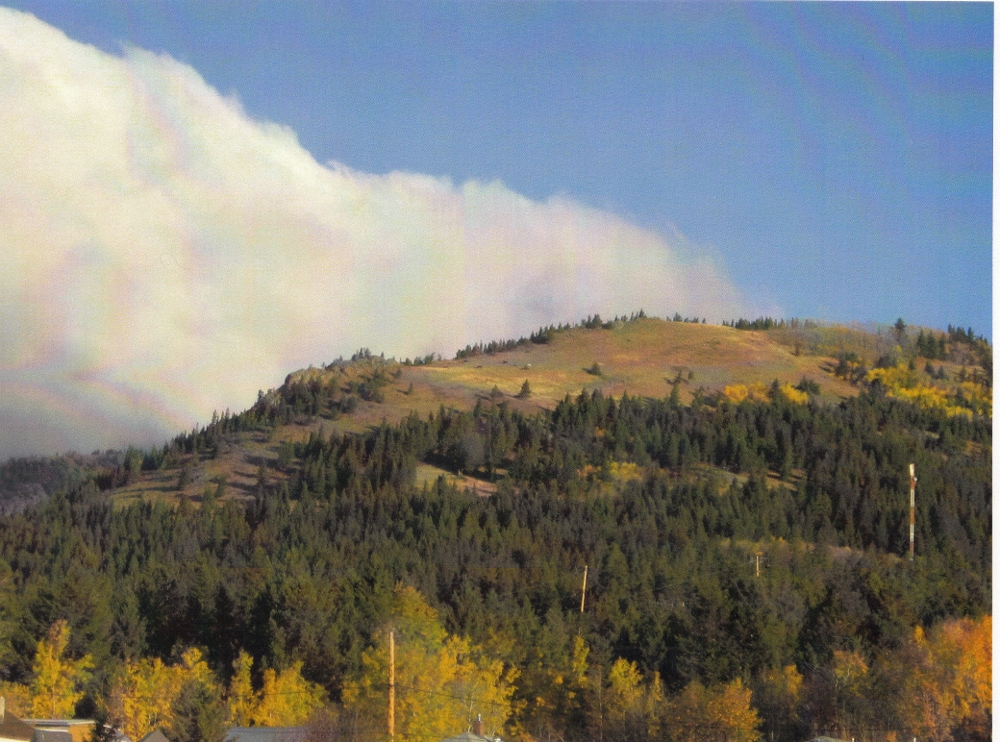 If you look closely you can see near the top on close to the center small dots – Murray's horses on Sasky Mountain.
The Grizzly Bears by Murray McCargar
One day when I was walking up to get my horses, I came to a clump of bushes beside a small creek where the trail split. I took the right fork, circled around and came back on the left hand side of the bushes, when out walked a cub followed by Momma grizzly, followed by another cub. I slowly squatted down; the bears kept on walking away without looking at me. A couple of days later I walked up to the power line which borders the north end of the pasture on top of Saskatchewan Mountain. The locals call it "Sasky Mountain" When I got home that afternoon my neighbor advised me he saw me up on Sasky Mountain looking for my horses, when he noticed the sow grizzly was following me with her cubs a short distance behind her. He honked his horn hoping to alert me, but I didn't hear it. A couple of days later, I was leading Ranger down the trail past the clump of bushes when we heard a "woof', Ranger immediately shifted from between me and the bushes to the opposite side of me. I realized then, this was s where momma ear and her cubs lived. I had been by this spot almost daily as it is the main trail in the pasture. I related my story to the Fish and Wildlife officer, who stated, "that old bear lives up there. She has known you and your horses since the first day you moved into that pasture. She won't bother you; we've had no reports about her bothering anyone." However, from then on I carried a gun when I went up looking for my horses on Sasky Mountain.
Always promoting the Tennessee Walking Horse, Murray offered a mount to others interested in experiencing the special qualities of the breed. People in the Crows Nest Pass tried the Walkers and marveled at the smoothness of the ride. Reverend Nikki Keyworth was Murray's riding partner for 8 years, riding together Monday through Friday unless the weather was bad.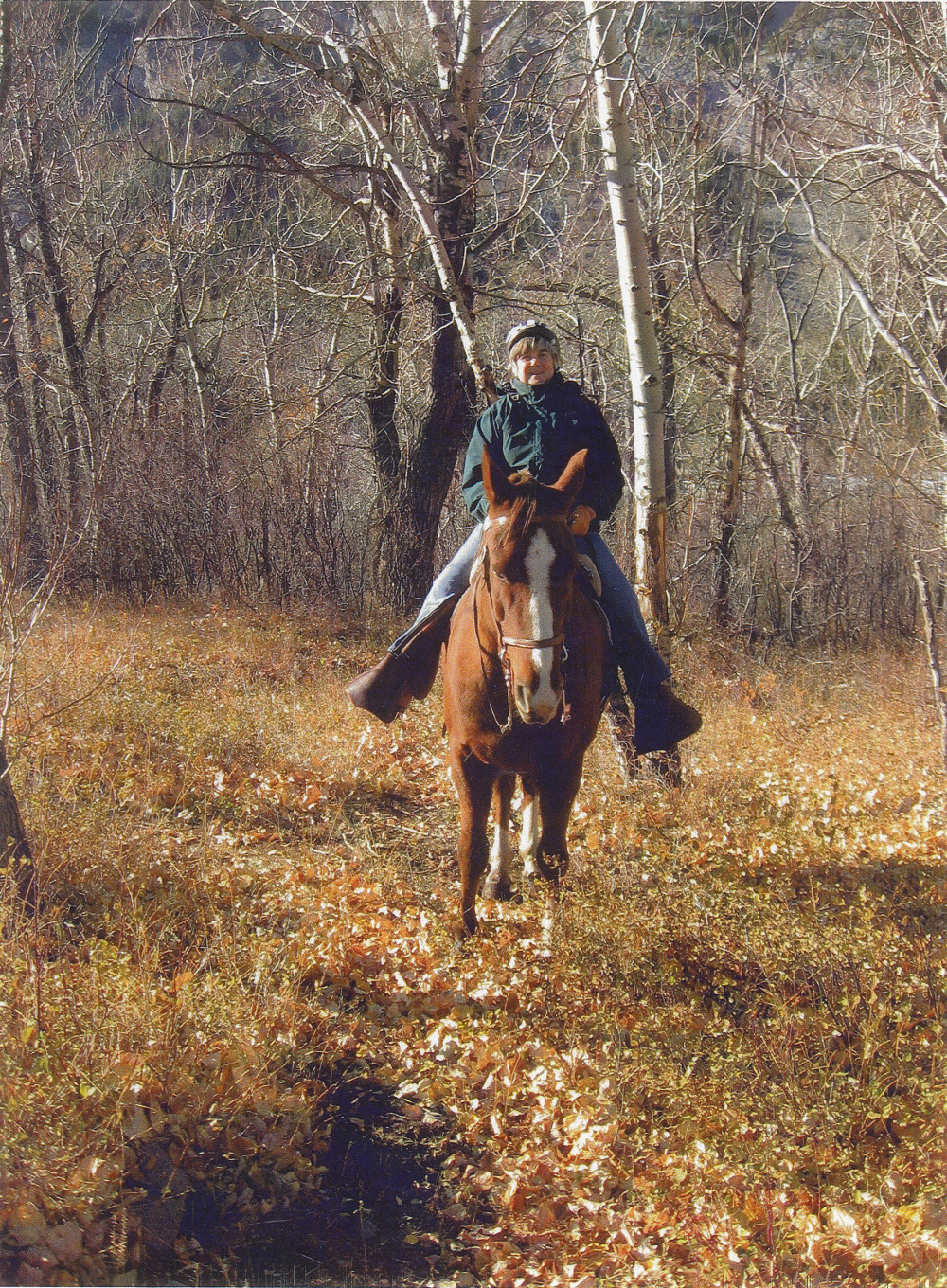 Reverend Nikki Keyworth enjoying a ride on Ranger.
Murray on Jack leading Ranger wearing one of the original Orthoflex saddles, Officer's Model. Photo taken at the base of the Frank Slide.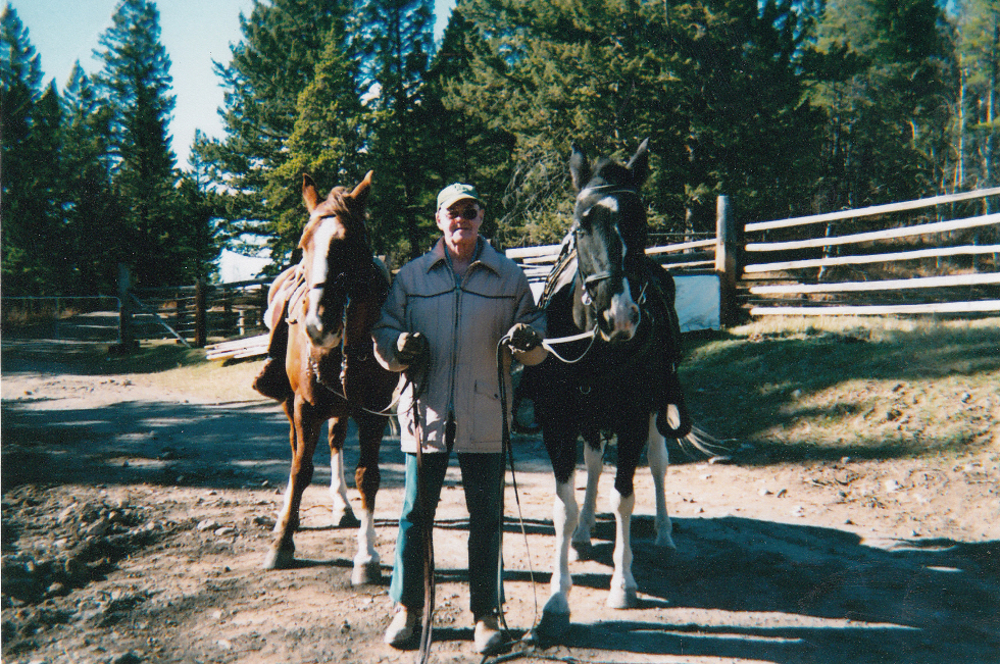 Murray, Ranger and Jack ready for a ride.
 Although bred by Jack and Madeleine Chapman, Murray purchased Ranger (Canadian Choice) from Norm and Liz Levangie who acquired him as a youngster. Murray says that Ranger will do 7 gaits and sometimes will do all 7 during a ride. But in Murray's words, "when he goes well, there is nothing smoother that I have even ridden". "Ranger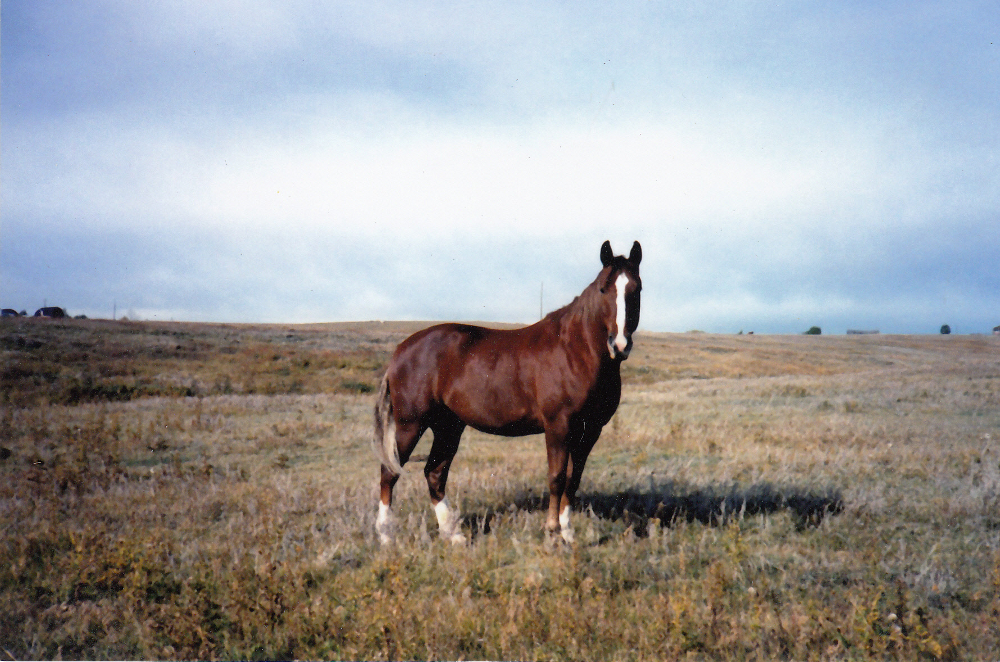 Canadian Choice – Ranger. "I will never sell Ranger. He always does what I want. He is a good horse."