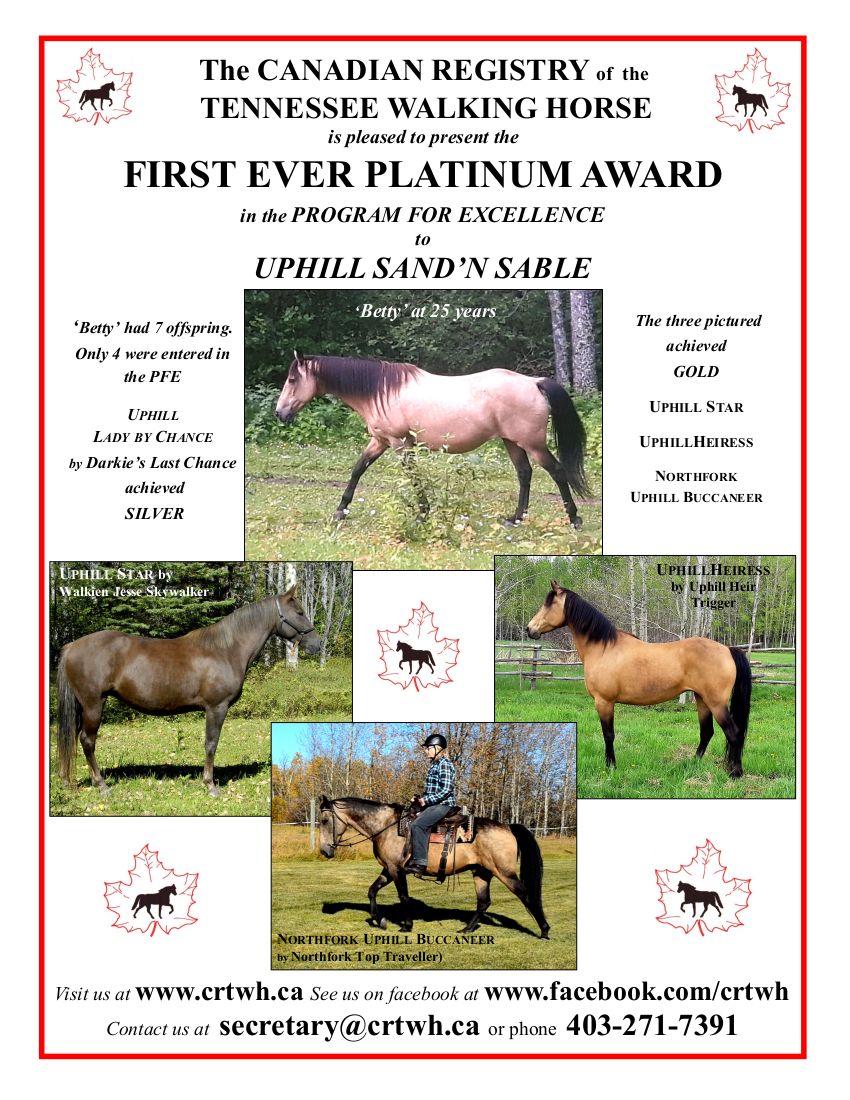 First recipient of
THE PLATINUM BREEDER AWARD
Uphill Sand'N Sable
The Canadian Triple Challenge comprises 3 areas – program for Excellence, Training Levels and Ride/Drive Alternative. The Platinum Breeder Award is reserved for breeding animals. Breeding animals receive the Platinum Breeder Reward as a result of Awards achieved by their offspring.
The qualifications to achieve this award appear simple but all things that appear simple require time and energy. * For qualifications see below
Choosing a mare is easy, but evaluating her ability to produce outstanding offspring takes knowledge, thought, time, patience and some good luck. Everyone is enthralled with foals. It takes an owner with an educated yet rational eye to go beyond the cute and precious to evaluating the foal. Elements like straight front legs, proportion, balance, disposition and movement are of prime importance. After these determinations are made, patience is required until the animal is ready to be started under saddle. The length of time depends upon the emotional, mental and physical maturity of the horse.
Not only must the offspring be under saddle, but must be entered in the Program for Excellence and achieve the Gold Award in the Program. That means the horse must satisfy standards of conformation, movement in hand, flat walk under saddle, running walk under saddle and canter under saddle.
To qualify for the Platinum Mare award, the mare must produce 3 offspring who achieve the Gold Award. To make attainment even more difficult, the 3 offspring must be the result of at least 2 different stallions. The Platinum Mare Award is based upon breeding decisions, patience, commitment, energy and desire. The Canadian registry of the Tennessee Walking Horse congratulate Betty and her owner Charles H and Marjorie C Lacy.
Uphill Sand'N Sable (Betty) 1993-1226
by Honey Boy's Rebel 360
out of Uphill Arnica 90
Betty has produced 7 foals by 6 stallions – 5 fillies and 2 colts. Four of her offspring were entered in the Program For Excellence.
Qualifying Offspring that attained Gold
Uphill Heiress 3780
by Uphill Heir Trigger3008
gold 2020
Uphill Star 3484
by Walkien Jesse Skywalker 3232
gold 2018
Northfork Uphill Buccaneer 3550
by Northfork Top Traveller 2613
gold 2020
Standards for Platinum Mare Award
The Mare (dam) must be registered in the Canadian Registry of the Tennessee Walking Horse prior to any offspring being entered in the program and therefore contributing to the Award.

The mare (dam) must produce 3 foals from at least 2 different stallions.

These 3 offspring must satisfy the standards of performance for the Gold Award.

There is no time limit imposed to fulfill the requirements.